ARIZONA STATE WALL SEAL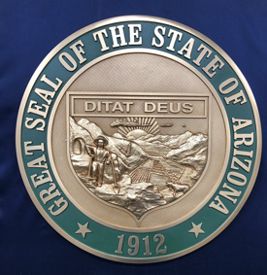 Unmounted Bronze Ox with Rim Color
15" State Seal
#6105BO
golden bronze ox finish
#6105RC
golden bronze ox finish with color in the outer rim
#6105BO5209
golden bronze ox finish mounted on 18x18" walnut finish panel
#6105RC5209
golden bronze ox finish with color in outer rim
mounted on 18x18" walnut finish panel
8" State Seal
#6009
Small seal for plaque mounting
WOMAN-OWNED SMALL BUSINESS | SAM Registered Supplier
General Information
Our state seals are formed in butyrate plastic, custom detailed, foam filled with poster board back and a saw tooth hanger.
These state seals were created approximately 15" in diameter. We have created molds for all states, the Great Seal of the United States, US House of Representatives, and US Senate that are manufactured with a golden bronze finish.
We can produce new seals 19" for longest dimension. If you would like to have your state seal made in the 19" size we would need vector art work to make the new size. As state seals become available in 19" size, we will post their availability on our web page.
Color behind the lettering in the outer rim is available for these seals except District of Columbia, Maine, New Jersey and Wisconsin.
We do not offer some state seals in full color.
Seals from 7.5" to 36" can also be produced in our painted resin process. Please see our State Seal Information for more details and options.
The seals displayed on our web page and any of our literature are for reference only. They do not infer any endorsement by the agency or organization, listed or displayed.