Terms & Conditions | General Information

Disclaimer
Designs and logos illustrated in this catalog are reproduced for display purposes only. They do not imply or suggest endorsement of such trademark or that the item was originally produced for the owner of such mark.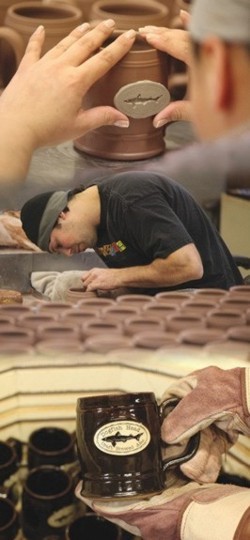 Artwork
Preferred format for artwork is a vector Adobe Illustrator® file with fonts converted to outlines.
A free virtual proof (sample shown) will be emailed for approval prior to proceeding with the order.
A onetime set-up fee is charged for new artworks.
No set-up fee is charged when reusing the same artwork on any future orders.
Color & Size Variances:
All of our stoneware pieces are handmade and subject to variation in size, color and glaze consistency.
Glaze colors are created from natural ingredients including minerals, oxides and metals derived from the earth.
Due to the nature of the materials and the variance in hand thrown products, color variation within an order or from order to order is common.
Pieces that are within +/- 1 oz. are considered acceptable.
Minimum Orders
A minimum order of 48 pieces is required for new and reorders.
Up to 2 styles and 2 glaze colors may be ordered within a 48-piece order.
Overrun & Underrun Policy
Every effort is made to ship the exact quantity ordered. Orders within a variance of +/-10% are complete and will be shipped and invoiced.
Payment/Terms
A down payment of 100% is required when placing an order. We accept MasterCard & Visa. A company check is required on orders of $2,000 or more.
By placing an order, you agree to our terms and conditions.
Our terms and conditions are subject to change without notice.
Production time is 4-6 weeks and begins with the receipt of a complete purchase order and signed artwork approval.
Customized items cannot be returned.
Rights to Promotion
Unless indicated on P.O. or in writing, we reserve the right to use any items we produce in our displays, catalogs, ad or any promotional material.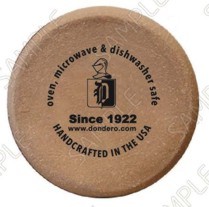 Shipping & Handling
All orders are shipped UPS ground unless otherwise noted on the purchase order.
Catalog item weights are approximate and are subject to change without notice.
Please contact customer service for freight quotes.
Orders are bulk boxed in custom-designed, 100% eco-friendly protective packaging. Depending on the product style, we typically package 12-18 pieces to a carton.
Individual packaging is available for an additional cost.
Rush orders can be shipped in 15 business days and are subject to a 35% upcharge. Plan for delivery deadlines during peak seasonal periods.
Third-Party Shipments, there is a $4.00/box fee for this service.
Multiple Location Imprints are available for an additional location imprint add $1.50/piece, plus additional set-up charge.
Drop Shipments to multiple locations, all occurring at the same time are free of charge. Freight charges apply. A drop ship address list must be provided prior to the start of production. Address list must be on an Excel spreadsheet with separate columns for the distributor company name, purchase order number, ship to name, address 1, address 2, city, state, zip and quantity per ship location.
All prices are subject to change without notice.
USA Handcrafted Stoneware. Made especially for you!