AIR FORCE SERGEANTS ASSOCIATION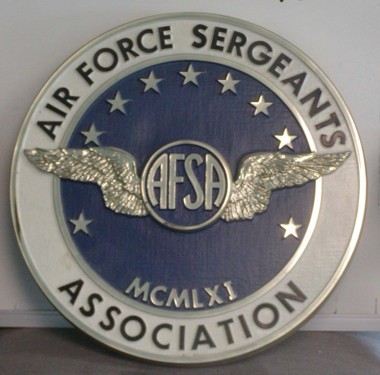 51% Woman Owned Small Business Sam Registered Supplier | CAGE Code: 5L836 | D&B 36-2451122
General Information
Our smaller seals are formed in butyrate plastic, custom detailed and foam filled with poster board back and a saw tooth hanger.
We can produce new seals 19" for longest dimension. If your would like to have your seal made in the 19" size we would need vector art work.
Seals from 15" to 19" can be produced in our painted resin process. Please see our Wall Seal Information for more detail.
The new art programs have created more complex designs for seals. We now use a 4-color process printing for seal centers with raised borders. Please see our 4-color process information on our wall seal information.
The seals displayed on our web page and any of our literature are for reference only. They do not infer any endorsement by the agency or organization, listed or displayed.
All prices are subject to change without notice.
Please contact us for current pricing information and availability.
Prices for seals with walnut panels will be quoted upon request.
Shipping and Handling
For butyrate seals, shipping and handling charges are included for deliveries inside the Continental USA.
Resin and mounted seals shipping and handling will be added to the order.
Shipments outside the Continental USA will have the shipping and handling charges added to the order.
Normal delivery schedule is approximately 12 to 14 weeks after receipt of an order.
An expedited delivery schedule is available for an additional fee.
Additional production time is required when new molds are created.
Payment Information
For your convenience, we accept Visa and MasterCard credit cards, checks or money orders.
Credit card information is not secure to send by email or fax. Send your completed order form, then call us with your card information
Virginia Sales Tax is applicable for all orders shipped in Virginia, unless paid by a government tax exempt credit card or we have a current tax exempt certificate on file.